Residential Tile & Grout Cleaning
Over time, dirt, grime, spills and other contaminants accumulate making the tiles in your home look dull and dirty while grout will darken and become discolored.
Non-professional, off-the-shelf home cleaning products simply don't remove the built-up, ground-in grime that has settled into these hard-to-reach places.
Dirt and other debris get trapped in the pores of tile and grout, which is particularly tough to remove when not using professional tile cleaning methods.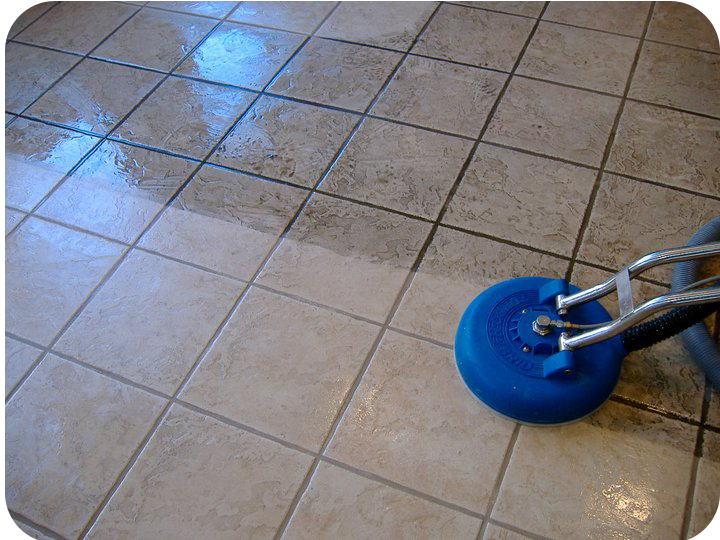 Why Choose Our Tile and Grout Cleaning Services?
Super Mario's extensive restorative process will make your tile, grout and natural stone look sparkling clean, a result that can only be attained through professional tile and grout cleaning.
Our tile and grout cleaning and restoration service blends our deep-cleaning process and our advanced grout sealing techniques that not only cleans and restores your tile and grout to a more attractive condition, but also waterproofs your grout for additional protection.
Our Tile & Grout Cleaning Process
Pre-Treatment: spray application of our alkaline trimix chemical with the purpose of breaking the surface tension of the soil, penetrating the grout in order to de-flocculate imbedded soil. It then breaks down soil and suspends it in the water molecule/cleaning detergent for easy removal.
Agitation: Aids the Pre-Treatment to saturate, and helps further loosen soil.
Extraction: done via our Pro Chem Everest 650HP truck mount, vacuums off suspended soil in water molecules
Rinse: Triple Steam rinse flushes out any dirt remaining in the tile & grout ensuring full removal.
Emulsify: a chemical rinse that is the 2nd rinse step synergistically reacts with the pre-treatment to attract all chemical and soil to the surface
Neutralize: a chemical rinse that is the 3rd step in the rinse step that flushes all chemicals out, neutralizes them, and brings the tile & grout PH back to balance PH7 to prevent re-soiling.
Speed dry: expedite drying to eliminate/avoid efflorescence
*Drying time after service vary based on room temperature, relative humidity, and air movement. Generally grout remains damp after service for 4-8 hours.